About us
Wordcraft International Limited is a private company located in the UK and is the developer and manufacturer of all products shown on this site. Wordcraft's international distributors are independent companies.
Our address
Wordcraft International Limited
8 Heritage Business Centre
Derby Road
Belper
DE56 1SW
United Kingdom
Support
Please start with the support page which describes how to get help.
To help you:
we require detailed information provided by the procedure on our technical support page,
our support staff may have to refer a request to our development team before they can reply,
our customers are world-wide so our technical support procedure supports everyone in the same way.
Please see the technical support page to request technical support.
Please see the support page for User Guides, Assembly Guides and software downloads.
Sales and general enquiries

Demonstrations
For those happy to visit our offices in beautiful Derbyshire we offer demonstrations of both the laser and projection versions of DryFire.
Please contact us to arrange a suitable time - and don't forget to bring your shotgun!
Finding us
We are on the left about half way between Milford and Belper on the A6 when heading towards Matlock.
Please click/tap the map below to see our location on Google maps.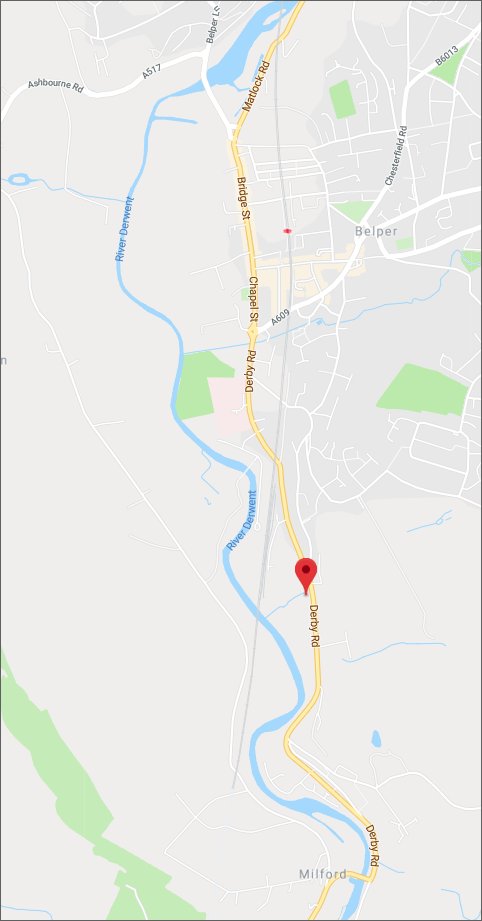 250 years of technological firsts
We are located in the Derwent Valley, a UNESCO World Heritage Site where the Industrial Revolution began.

The world's first mechanised factory, Derby Silk Mill, was built by John and Thomas Lombe in Derby in 1721.
The world's first industrial factory was opened by Richard Arkwright in Cromford in 1771. Arkwright had patented the water frame for spinning - another first. In 1804 his son, also called Richard, became a partner in the Arkwirght, Toplis & Co bank which today is Lloyds bank.
The world's first industrial village, purpose built to house workers at his mills, was built by Richard Arkwright in Cromford in 1771.
The world's first "fire-proof" iron-framed building was built by William Strutt in Belper in 1803 after a fire at the mill built by his father Jedediah Strutt in 1786. "Iron-framed" became "steel-framed" - the technology at the heart of all large modern buildings.
....
The world's first jet engine was developed by Frank Whittle of Power Jets in collaboration with Rolls Royce in Derby - the Rolls Royce Aero Engine Division is still based in Derby and leads the world in jet engine technology
....
One of the world's first microcomputer word processors, Wordcraft, was developed - by us!
The world's first software protection device, the Dongle, was developed, and named - by us!
One of the world's first microcomputer typesetting systems, TypeCraft, was developed - by us!
The world's first clay shooting simulator, DryFire, was developed - by us!
The world's first Bluetooth level, SmartAngle, was developed - by us!
Our history
Wordcraft International was set up in the late 1970s and its founders had no desire to create a mega-corporation. The intention was to remain small, to keep the personal touch and enjoy doing the things that interest us - that remains the case today.
The video below covers some of the technological developments in the area where we are based and it also covers some of the firsts developed by Wordcraft. We may be small but we are highly creative!
It all began with a word processor.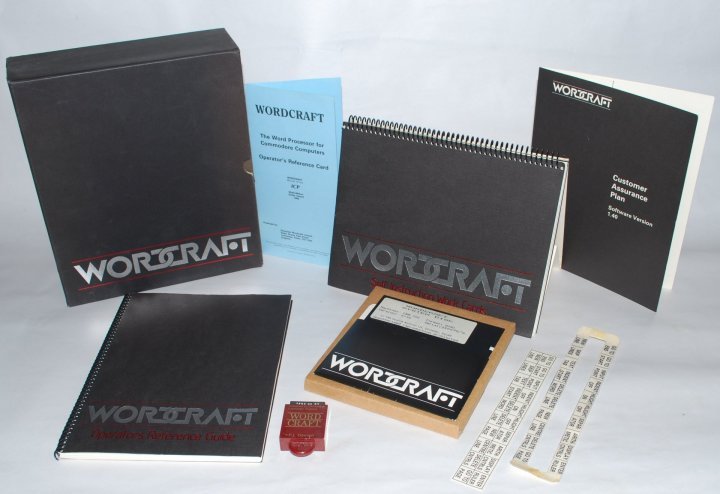 First developed in 1978, the Wordcraft word processor, written by Pete Dowson, was very successful during the 1980s, starting on the Commodore PET then on IBM PCs and other microcomputers. One of our claims to fame is that, together with Graham Heggie, we invented, and named, "dongles" - devices used to protect software from piracy - you can see one in the photo above (bottom, centre).
From Wordcraft we developed Typecraft, one of the first micro-based typesetting systems that led the way from hot metal typesetting to digital typesetting.
With the arrival of laser printers and facsimile we developed LaserFAX which enabled users to send faxes from any PC-based software.
LaserFAX became the leading software for MFPs (Multi Functional Peripherals - devices that can print, copy, scan, fax and make the tea) and led to OEM deals with almost all of the world's leading office equipment manufacturers including: Panasonic, Canon, Sharp, Minolta, Ricoh, Samsung, Sagem, Alcatel, Xerox, Toshiba and Olivetti as well as telecoms suppliers such as BT, Deutsche Telekom and France Telecom.
During the early 2000s we invented the DryFire clay shooting simulator which has become the world's leading training and practice system for game and clay shooters.
We continue to develop DryFire while using our software and electronics expertise to help other companies develop new products.
We are always looking for new ideas, so, if you have "a wizard wheeze", or even "a cunning plan", please don't hesitate to contact us.
DryFire, Swing, SmartAngle and other credits
No product is the result of the efforts of a single person so we feel it fair to give credit to those who made DryFire a reality.
Mike Harrison of White Wing Logic - for some great ideas and designing the original electronics and firmware.
Nick Hickman of Wordcraft - for all the hard software including mathematically modelling the flight of clays and shotgun pellets.
Brian Edmundson - for developing the hardware, including all the plastic parts, for designing updates to the electronics and for a million and one other things.
Colin Robinson - for coming up with the "tree tie" idea for the trigger switch, for producing tooling for plastic parts and for assembling and testing units prior to handing over to Wordcraft.
Andrew Gallear and Adam Legge of Wordcraft - for taking Mike Lake's code and turning it into a professional product. Andrew and Adam have also developed all the new features in DryFire today - including the projection version which provides an added level of reality.
Richard Allison of Wordcraft - for tirelessly assembling and calibrating DryFire systems, shipping them, answering support queries and contributing lots of ideas.
Andrea Roach of Wordcraft - for running the company after Mike Lake retired from day-to-day management. Andrea knew nothing about shooting when she started - she is now a qualified BASC coach - thanks to lots of practice with DryFire!
Mike Lake - for the original idea.